The Jewish community of Glasgow is very active and has been organizing many events, developing partnerships and gathering increasing number of visitors. Here's our interview with Kerry Patterson, Manager of the Scottish Jewish Heritage Centre.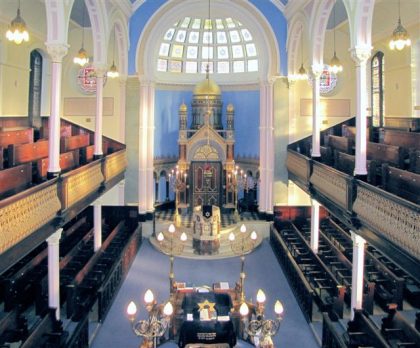 Jguideeurope: Can you tell us about the cultural events related to Jewish culture organized in Glasgow in 2023-4?
Kerry Patterson: We organized many events since 2023. Among them in February, Maria Chamberlain, daughter of two Holocaust survivors, spoke at a Scottish Jewish Archives Centre open day on her new book, 'Never Tell Anyone You're Jewish.' In March, Alan Brodie, theatrical agent in London, spoke at a fundraising event held by the Scottish Jewish Archives Centre on 'From the Avrom Greenbaum Players to the West End – a theatrical journey.' In April, during the Yom HaShoah commemoration, speaker Peter Grose presented his book, 'A Good Place to Hide.' In May, Cosgrove Care held a jazz afternoon, raising £2,000 for ongoing Better Days 2023 appeal. In June, Garnethill Synagogue hosted a concert of classical and klezmer music, with musicians from the Royal Conservatoire of Scotland. We also had events during the first part of the summer.
The upcoming ones are:
August 13, a celebration of all things Jewish at the Edinburgh Festival Fringe at the Salisbury Road Community Centre. August 15, 22 and 29, will be held at the same place, a Pop-Up Kosher Diner by the Edinburgh Hebrew Congregation. August 20, an opportunity will be given to visit the Scottish Jewish Archives Centre, based at the historic Garnethill Synagogue. August 30 will be launched online the serious game "Marion's Journey", an educational computer game that follows the flight of Marion Camrass during the Second World War from occupied Poland, through Siberia, then Bukhara and finally to Glasgow here she settled, married and raised her family.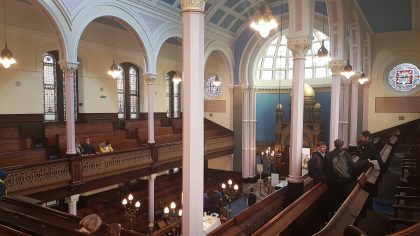 Which place related to Glasgow's Jewish heritage deserves to be known better?
The Heritage Centre and Archives Centre which are based within Garnethill Synagogue. Visiting on a tour allows you to access the beautiful historic synagogue, built in 1879 as well as see the displays created using the collections of the Scottish Jewish Archives Centre. These displays cover the history of the Jewish community in Scotland including a timeline and map display and a special exhibition focusing on people who came to Scotland around the Second World War and what people living in Scotland did to help them.
How do you perceive the evolution of interest in this heritage?
We have been building on existing networks and extending these to a range of partner organisations, increasing publicity, presenting more events, all of which helped raising visitor numbers.
Can you share an emotional encounter with a visitor?
I personally work primarily with school audiences where we use specially-designed Learning Kits to encourage young people to make an emotional connection with the stories and experiences of refugees who came to Scotland from mainland Europe just before the Second World War. They will learn about an individual's life in Germany/Austria, what happened to make them leave and then what their experience was when they came to Scotland.