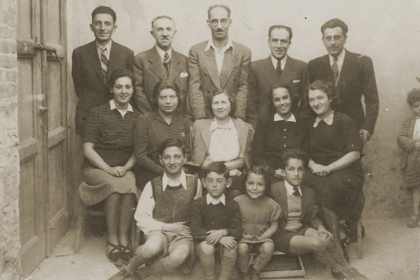 While Jews have lived in Albania for centuries, there is little physical evidence of their presence. A good reason to visit Albania, however, might be to pay homage to besa, the Albanian code of honor and hospitality. Through this practice, Muslims and Christians risked their lives during World War II to save the local Jewish population, as well as hundreds of refugees from neighboring countries.
The Jews of the Balkans were linked by family and business ties. Thus, Albanian Jews were particularly close to the communities of Corfu and Ioannina.
According to Albanian historian Apostol Kotani, Jews arrived in Albania around AD 70. Sources mention Roman ships with Jewish prisoners on board who were reportedly stranded in Albania after their ships sank. The descendants of these captives may have been those who built a synagogue in the southern port city of Sarande in the 5th century.
Other accounts point to a small group of Jewish merchants living in the city of Durres, an important point on the trade route between Rome and Istanbul.
In the 15th and 16th centuries, the Jewish community represented a third of the population of Vlore, then the administrative and commercial capital of the country. The Jews of Vlore came from France, Corfu, Spain, and even Naples. They exported textiles and leather.
In the 17th century, Vlore lost its importance to Berat where followers of Sabbatai Zeevi settled.
Finally, in the 19th century, a large community from Greece settled in Albania. The same phenomenon recurred after the country became a monarchy in 1928. The census of 1930 mentions 204 Jews.
Note that in 1935, the country's tolerance and tranquility made it a potential candidate for the establishment of a Jewish home.
After Hitler came to power, Jews from Germany, Austria, Czechoslovakia, and even Poland found refuge in Albania. The Albanian Embassy in Berlin issued visas to all Jews who requested them, when no country dared to do so – remember that Albert Einstein fled Germany in 1935 with Albanian papers. Thus began a remarkable rescue, both at the state level – on the orders of King Zog – who refused to give the German authorities his census lists; than at the level of its predominantly Muslim population who hid the Jewish community at the risk of its life. Only one family was deported. Albania therefore not only rescued 200 local Jews, but also 2,000 foreign Jewish refugees. Albania is thus the only country to have increased its Jewish population tenfold between 1939 and 1945. To date, 69 Albanians have been elevated to the rank of Righteous Among the Nations.
To learn more about this little-known aspect of WWII, it is recommended to watch the American documentary Besa the Promise so you will find the trailer here in English.
After the end of the war, 180 Jews lived in Albania. When the borders opened in 1991, the majority left the country for Israel. There are in 2021 from 50 to 200 Albanian Jews.