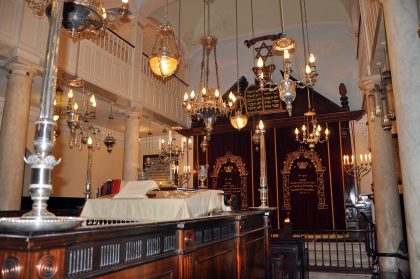 The Jewish presence in Gibraltar seems to date back to the 14th century.
A historical document from 1356 refers to an attempt by the Jewish community to free prisoners held by pirates.
During the Inquisition of 1492, many Jews fled to North Africa via Gibraltar. When, following the Treaty of Utrecht of 1713, the island came under British rule, Jews were allowed to resettle there.
During the 18th century, Jews settled in Gibraltar, notably merchants from Tetouan in Morocco, later joined by English and Dutch.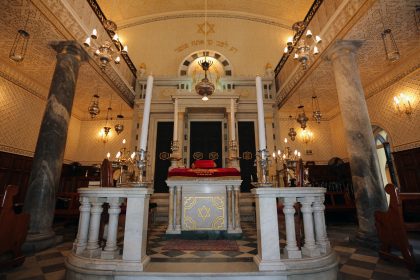 In 1805, they constituted half of the inhabitants of Gibraltar, even creating a newspaper in Ladino, "Cronica Israelitica". In 1878, the island had more than 1,500 Jews.
In the 20th century, this figure declined rapidly until the beginning of the next century, notably following the evacuation of civilian populations during World War II and the Franco blockade.
An increase in the Jewish population was seen at the start of the 21st century. There are believed to be just under 800 members of the Jewish community in Gibraltar today, constituting 2% of the population.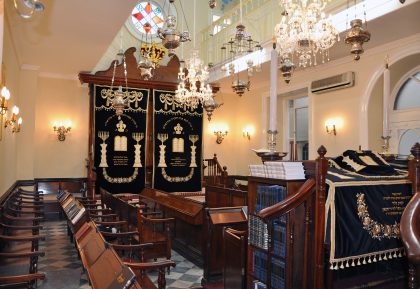 There are four synagogues in Gibraltar.
David Nieto, Chief Sephardic Rabbi in England, had Isaac Nieto as a son. He was appointed rabbi at the English synagogue at Bevis Marks.
He then headed the  Shaar Hashamayim Synagogue, built in the mid-18th century, which was also inspired by the architecture of Bevis Marks. It is still Gibraltar's main synagogue today.
The  Etz Chayim Synagogue was inaugurated in 1759 on the premises of the former yeshiva founded by Isaac Nieto. Following the Moroccan rite, it was destroyed and later rebuilt.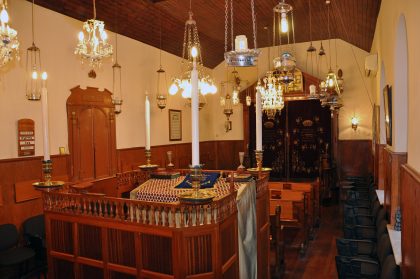 The  Nefutsot Yehuda Synagogue was founded by Dutch merchants in 1800. Built in a garden, it is architecturally inspired by the Sephardic synagogue in Amsterdam. Destroyed by fire in 1913, its style changed during its reconstruction, more inspired by an Italian touch inside the walls.
Following the death of Rabbi Solomon Abudarham in 1804, his Talmudic school was converted into a synagogue fifteen years later. The  Abudarham Synagogue is a small place of worship with wooden PEWS facing the bimah.
The  Jews Gate Cemetery, the ancient Jewish cemetery, is located on Windmill Hill. It was used between 1746 and 1848. This is where the former Grand Rabbis of the island were buried. The cemetery is located near the Pillars of Hercules monument.
The  current cemetery is on Devil's Tower Road. Heroes of the First World War and the Second World War are buried there.