Italian border and Istria
Central and Northeast Slovenia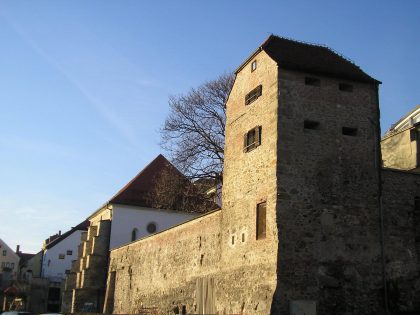 A Slavic land under Germanic rule for many centuries, Slovenia finally gained independence in 1991. The fate of the Jewish population here depended largely over the years on the good will of its princes. Nonetheless, the Jewish presence in the region goes back to antiquity. Archaeological digs have revealed a tomb engraved with a menorah at the Skocjan site, which likely dates back to the fifth century C.E. Traces in the region then disappear until the twelfth century, with documents that mention the arrival of immigrants from Central Europe and Italy. It is also known that a community prospered in Styria, where Jews owned vineyards and mills. At the time, Jews could be found living in ghettos in and around ten cities or localities, including Maribor, Piran, and the current capital of Ljubljana.
At the end of the fifteenth century, however, the Hapsburgs exiled the Jews, first from Styria and Carinthia and later from Ljubljana, confining them to a rural setting. In 1718, moreover, Emperor Charles VI ordered their complete expulsion. At the end of the eighteenth century, small communities began to reestablish themselves in the extreme northeast of the country, then under Hungarian domination: Jewish life began flourishing to an extent in or around Murska Sobota, Beltinci, and Lendava. The brief "Illyrian Provinces" interlude under Napoleonic domination, from 1808 to 1814, was not enough to convince a great number of Jews to return to the country. And in 1817, the Hapsburgs forbade them to settle in Carniola, the central region of present-day Slovenia. The total emancipation of the Jews in 1867 by the Austro-Hungarian Empire had little effect in Slovenia: the anti-Semitism was so virulent in the region that any large-scale return was discouraged.
In 1940, present-day Slovenia contained a Jewish community of 1500 people. Germany annexed the region directly into the Reich, sending more than 90% of its Jews to their deaths. Only a small minority managed to flee to the Italian-occupied territory or into the underground Resistance. Today, Slovenia's Jewish community consists of fewer than 100 people.