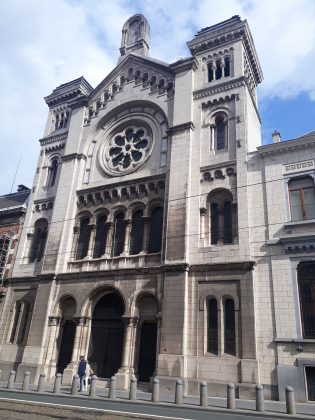 The history of the Belgian Jews is similar to that of the Jews of western Europe generally, involving migrations and internal changes as the old communities came under the influence of other traditions.
The Jews came to what is now Belgium in the thirteenth century, settling at Arlon (Aarlen), Brussels, Hasselt, Jodoigne (Geldenaken), Zootleeuw (Leau), Leuven (Louvain), Mechelen (Malines), Sint-Truiden (Saint-Trond), and Tienen (Tirlemont). A
Jewish tombstone from 1255 found in Tienen bears a Hebrew text mentioning the name Rebecca. It is now exhibited at the Musée royal d'art et d'histoire du cinquantenaire.
From 1348 to 1350 the Black Death swept through western Europe; the Jews were accused of poisoning fountains and, as a result, were persecuted. In the sixteenth century a new era began.
Portuguese and Spanish Marranos arrived in Antwerp and made a major contribution to the town's prosperity. Charles V ordered the expulsion of the "new Christians" on several occasions but was opposed by the town.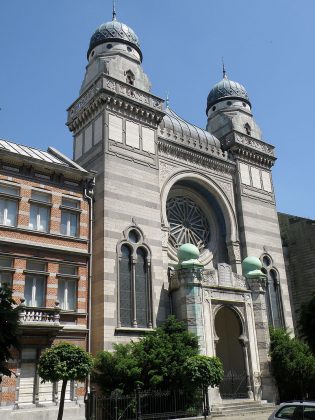 By the Eighteenth century the Jews were engaged in economic activities very different from those of their brothers in eastern Europe. They put themselves at the service of the monarchy, went into trade, and thus made an important contribution to economic development.
In 1808, the 800-odd Belgian Jews were integrated into the Israelite consistory of Créfeld, recognised by the French state.
In 1831, after long negotiations with the new Parliament, an independent Israelite consistory was set up in Brussels, Belgium's capital, which welcomed the growing migrant population from Eastern Europe.
In 1914, at the beginning of World War I, the Jews of Antwerp sought refuge over the border  in the Netherlands, which remained neutral until the armistice in 1918. They congregated in Amsterdam, the Hague and Scheveningen.
Many Jews from the Netherlands also went to live in Antwerp, which was also a major port and shared similar financial activities, such as the diamond industry.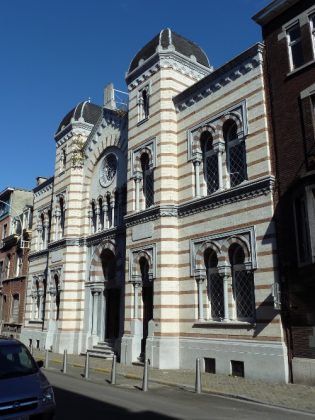 In 1939 a large part of Antwerp Jewish population fled to Cuba. This country allowed Jews from Antwerp to enter for a while in order to set up diamond factories. Some returned years later; other went on to the United States. On the eve of World War II, Belgium's Jewish population was estimated at 90000. Some 28000 Jews were deported to Auschwitz from the Dossin barracks in Mechelen. Half never came back.
Today, the Jewish population of 40000 lives mainly in Brussels and Antwerp (but also in Liège and Charleroi). Their political and religious positions, as well as professional activities divide up geographically.
Antwerp is constituted of Jews who are mostly religious or traditionalists. They have been prominent in the diamond industry from the beginning of the 20th century until the beginning of the 21st.
Whereas Brussels's Jewish community is mostly secular and has been active in the garment industry.