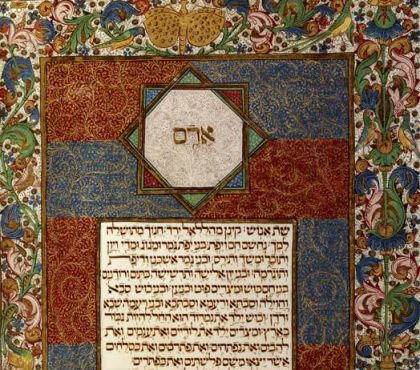 Portugal became an autonomous kingdom under Henry of Burgundy, a prince of French origin. His son, Alfonso I, was the first king of Portugal (1114-85). The history of its Jewish population differs from that of the Jews on the Iberian Peninsula. Alfonso was aware of the importance of the Jewish communities he had freed from the Muslim yoke and granted them his protection, putting the chief rabbi, Yahia ben Yahia, in charge of collecting taxes.
Until the end of the fourteenth century, the Jews were reasonably well protected. The rivalry between the two Iberian kingdoms resulted in the accession of a new dynasty, the Avis. Their reign began a period a great prosperity for the Portuguese Jews, whose ranks were soon swelled by the Spanish Jews who began to arrive in 1391. This golden age for the Jews paralleled Portuguese exploration of Africa and the East Indies, which anticipated the "great discoveries". In 1279 the country had thirty-one judarias. Two centuries later there were 135.
Prepare your trip: two websites to discover
The Museum of Portuguese Jewish history aims to become to biggest virtual center for ressources and information onPortuguese Jewish history and communities.
http://www.mpjh.org/index.html
Redes de Judiarias Portugal is based on the model of its Spanish counterpart. Founded in 2011, it links between them regions having a Jewish past and culture.
http://www.redejudiariasportugal.com/index.php/pt/
However, this period was not totally free of tension between Jews and Christians: Portugal's new merchant class was apprehensive of the influence of the Jews and their capital. Under the reign of João I (1385-1443), new laws obliged Jews to wear an identifying sign on their clothes and imposed curfews on the judarias. There were scattered outbreaks of violence, like the attack on the Lisbon judaria in 1445, in which many died. Many Jews subsequently converted. When the Catholic monarchs passed their edict of expulsion, King João II allowed the Jews to enter Portugal, offering a limited stay of eight months on payment of eight cruzados per head. Portugal estimated Jewish population of 30000 was thus swollen by some 30000 to 60000 Spanish Jews, the new total representing between 6 and 10% of the kingdom's entire population.
Until 1496 the Portuguese government steered an ambivalent course between the need to conciliate its powerful neighbor and a concern to keep a still-useful minority within its borders. After a series of extremely harsh measures, with children being separated from their parents to be brought up in the Christian faith, and considerable pressure on adults to convert, a decree of expulsion was issued in December 1496. However, lacking the number of ships needed to ensure their departure, King Manoel I decided to convert all the Jews to Catholicism in one comprehensive ceremony. Furthermore, in 1499 he closed the border to prevent them from crossing. He thus created a society of cristãos novos (new Christians) whose destiny was quite different from that of the Spanish conversos. For, in spite of the apparent unity of the two Iberian kingdoms, their ways of dealing with their Jewish population were very different. These "new Christians" formed an homogenous group who occupied important positions in Portuguese society while continuing to maintain their own cultural traditions. They came to form a separate nation, and they were called "men of the nation", or, after settling in Bayonne and Bordeaux, "Portuguese nation".
The Inquisition of 1547 authorised the prosecution of cristãos novos who still practices Judaism and, later, of the crypto-Jews. It was carried out with varying degrees of conviction. The union of the two kingdoms from 1580 to 1640 under Philip II of Spain facilitated contact between conversos and cristãos novos, who were linked by family and commercial networks far beyond the peninsula to Bayonne, Bordeaux, London, Amsterdam, and the Ottoman Empire, where the Portuguese-Jewish diaspora was present.
Jewish: a synonym for Portuguese
The brilliant history of the Portuguese-Jewish diaspora can be summed up in two symbolic examples. The glory of Amsterdam's Jewish community, which built a majestic synagogue in 1666, is immortalised by the works of its members: in 1650, Menasch ben Israel, who had been raised in the Christian afith under the name Manuel Dias, wrote Esperanca de Israel; Isaac Aboab de Fonseca set up a community in Recife, Brazil between 1645 and 1654; finally, Baruch Spinoza elaborated a groundbreaking philosophical system. The case of the "Senhora", Dona Gracia Nassi, the wife of a banker, constitutes another illustrious example. She lived in Antwerp, Italy, and later Constantinople, were she developed her business interests and fostered numerous charitable institutions. She even founded a community of Spanish and Portuguese Jews in Tiberius, Palestine, thus reviving hopes of a return to Zion. At the time, there were Portuguese Jews throughout Europe, and "Jew" was often used as a synonym for "Portuguese".
Portuguese exploration opened new horizons for the kingdom, not least for the Jews, many of whom settled in the Americas. They also participated intellectually in this auspicious period: the rabbi Guedella Negro was made physicist and astrologer to King Don Duarte for the period 1433-1451; Jafuda Cresques, also known as Jaime of Majorca, the son of the cartographer and inventor of instruments of navigation Abraham Cresques, was asked by the infante Henry the Navigator to train navigators; Abraham Zacuto, from Castile, published a perpetual almanac in 1496 used on many voyages, including Vasco da Gama's to the East Indies in 1497. Printing works flourished, including those of Eliezar Toledano in Lisbon and Samuel Orta in Leiria.
Yet it was not until the nineteenth century that Portugal's Jews were able to express their identity openly and live freely. Between 1820 and 1830, Jewish families from Morocco came to live in Algarve and in the Azores. In 1860, a synagogue was built in Faro. In 1904 the Shaare Tikvah (Gates of Hope) Synagogue, still in use today, opened in Lisbon. In 1920 Captain Barros Bastos founded the Jewish community of Porto and embarked on a campaign to persuade crypto-Jews to return to the Judaism of their ancestors. Working almost single-handedly, he organised circumcisions, published a journal, held talks, set up a school a built a superb synagogue. Opened in 1936, it continues to be used for worship. Unfortunately, Bastos was attacked by Portuguese fascists and a military tribunal condemned him on trumped-up charges; only in 1997 was his name rehabilitated.
During this same period the engineer Samuel Schwartz made the surprising discovery of a crypto-Jewish community in Belmonte (Guarda province), all but forgotten by both Judaism and history.
After his posting to Bordeaux in 1940, the consul Mendes Sousa perceived the Nazi threat and set about providing visas for refugees. His work during the weeks of the French collapse saved several thousand mens and women from death. He was nonetheless discharged and discredited by the authorities, and died in poverty. In spite of Salazar's sympathy for the Nazis, Portugal remained neutral during the war and protected Portuguese Jews while providing support for those who managed to cross its borders. In 1948, with the agreement of the government, the American Jewish Joint Committee set up a camp to receive and organise the transit of Jews to the United States.
In 1977, the new Portuguese democracy established diplomatic relations with Israel. In 1993, the first stone was laid for the Belmonte Synagogue. It opened in 1996 as part of the ceremonies commemorating the expulsion of December 1496. Today, there are several thousand Jews living in Portugal, mainly in the major communities of Lisbon, Porto, and Belmonte but also dotted around a few other towns.