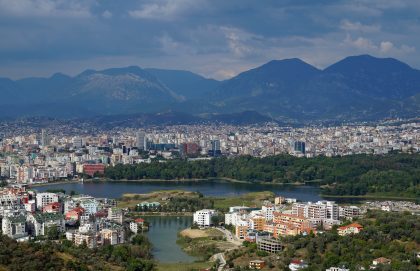 Few Jews have inhabited Albania through the centuries, but as noted in the country's overview page, it is the only European country that sharply increased its Jewish population during WWII thanks to the courageous welcome of refugees coming from surrounding regions.
In 1939, for example, around 100 Jewish families settled there, two-thirds of them in Tirana. Later that year, around 100 German Jews were able to take refuge there as well.
Although the country had 200 Jews in 1969, most of them living in Tirana, there was no organized community or rabbi. Following the fall of the Berlin Wall, most Albanian Jews emigrated to Israel.
In 1996, 25 Jews were registered in Tirana. An emissary from Chabad, based in Greece, provided a minimum service to the Hechal Shlomo synagogue in Tirana.
Jewish revival in Tirana
In 2010, Rabbi Joel Kaplan, who previously served as Chabad's envoy to Salonika, was appointed in the presence of Albanian Prime Minister Sali Berisha and Israeli Chief Rabbi Shlomo Amar, as well as local representatives of the Muslim and Christian cults. A first for 70 years.
A  Jewish Community now serves the needs of Tirana's Jews.
A  Memorial was inaugurated in 2020 honouring the Jewish victims of the Shoah and the Albanian Righteous who saved them. The inauguration took place in the presence of Prime Minister Edi Rama.
Among the 50 to 200 Jews present in Albania, most live in Tirana.