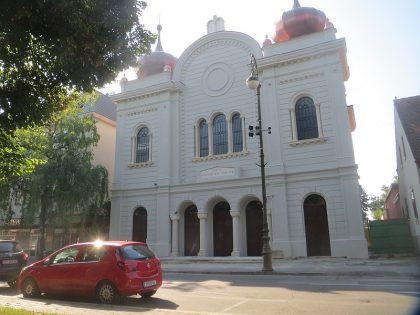 Varazdin is an important trading town located between Vienna and Trieste. The Jewish presence probably dates from the 18th century, mainly from Moravia, Hungary and Austria. They worked there mainly in the cattle trade. Among the town's most prominent figures was Mirko Breyer, a patriotic author and book collector, who donated many works to national institutions.
The synagogue was opened in 1861. At that time there were about 500 Jews in Varazdin. During the Holocaust, most of the Jews were killed. After the war, the survivors tried to establish a new community. The synagogue was nationalised in 1945 and repaired the following year. It has since been converted into a cinema. The building was also renovated in 1969, in a communist style, and again in 2021, more faithful to its original style.
The city also includes a neglected  Jewish cemetery dating back to 1810. The cemetery is located on the main road to Koprivnica.
Sources : Encyclopaedia Judaica