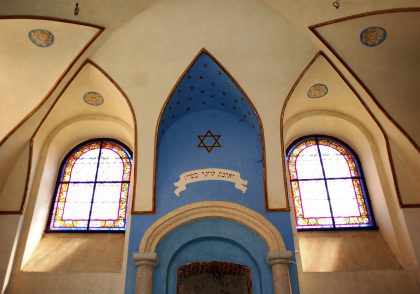 In Breznice in western Bohemia one can still see the former Jewish quater created in 1570 by the local lord, Ferdinand of Loksany, and enlarged a century and a half later. The two streets and large square of the quarter are lined with low houses. Breznice's Jewish quarter is located to the north of the town's central square.
Its most beautiful building is the Popper Palace, a manor house with courtyard that belonged to the celebrated Jewish merchant and financier of the eighteenth century, Joachim von Popper, one of the first Jew in the Czech lands to receive a noble title.
The synagogue, constructed in 1725 and remodeled a century later, still exists and is located on the square of the former ghetto, although it is now used for storage. Despite the new building and road construction projects, the town's small Jewish quarter preserves its original plan and architecture.
At the edge of the city on the way to the village of Predni Porící is a Jewish cemetery active until World War II that has some interesting Baroque-style tombs.