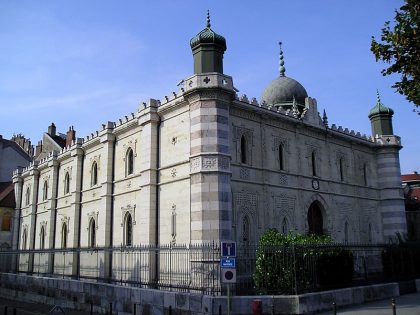 The Jewish presence in Besançon seems to date from the 1st century, at least it is attested to the time by official documents.
The Jewish quarter was historically around the Doubs river. Rue Juive was located on what is now  Rue Richebourg. The Jewish cemetery was located opposite the Porte de Charmont.
The Bisontine Jews were expelled in the 15th century. They were allowed to do this very sparingly.
Following the emancipation of the Jews by the French Revolution, the Bisontine Jewish community settled there again. About twenty families formed it in 1807.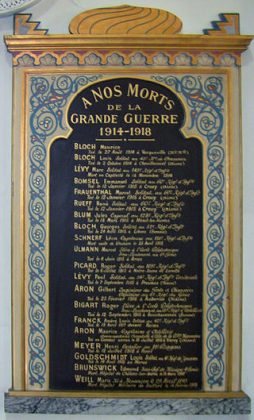 The current  synagogue, in Moorish style according to the architect Pierre Marnotte, was inaugurated in 1869. It succeeds another synagogue built on rue de la Madeleine, in the Battant district in 1831, which became too small to accommodate the faithful.
The arrival of Jews from Alsace-Lorraine following the war of 1870 allowed an increase in the community. 763 Bisontine Jews were recorded by the Consistory in 1897. 20 Bisontine Jewish soldiers died with weapons in hand during the First World War, as recalled by a monument at the entrance to the city's  Jewish cemetery.
Although 170 Bisontine Jewish families lived in the city at the start of the 20th century, thanks in particular to the arrival of refugees from the Russian revolutions and the rise of anti-Semitism in Germany, the Holocaust claimed many lives in Besançon.
The community found a new lease of life with the arrival of Jews from North Africa in the 1960s. The  Jérôme Cahen Center (named after the city's former rabbi) was opened in the 1970s and organizes numerous events related to Jewish culture.