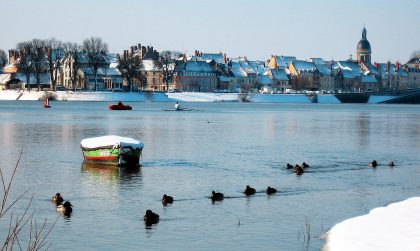 The presence of Chalonnais Jews dates to at least the 9th century, according to period documents relating to forced conversions. Some dating from the 12th century evoke the profession of winegrower exercised in particular by Jews from Chalon.
The Jewish community had a cemetery located on what is now rue des Places and a mikvah in Saint-Jean-des-Vignes. Rue des Juifs was located on what is now Grand'rue. Talmudist Eliezer ben Yehuda lived there in the 11th century.
Following the expulsions of the 14th century, Chalonnais Jews were allowed to resettle there, until the expulsion of 1394. The emancipation granted by the French Revolution allowed the Jews to return to Chalon-sur-Saône as in other communes of France and the community was officially established there in 1871, thanks in particular to the arrival of Jews from Alsace-Lorraine. The  synagogue was inaugurated in 1882. Since the end of the 1960s, around a hundred Chalonnais Jews have lived in the city and its surroundings.