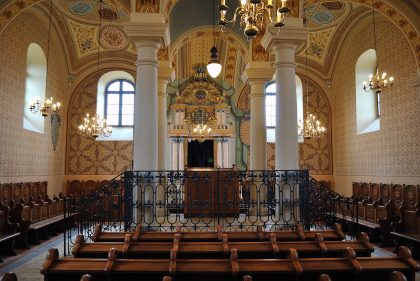 Built in 1795, the synagogue looms over the old Jewish quarter with its elegant white facade. With the Protestant church on the other side of the small valley, it symbolizes the religious balance of a large wine-making village, a quarter of whose inhabitants were Jews at the end of the nineteenth century. It represents a very beautiful and rare example of a Baroque synagogue in Hungary.
The interior is splendid, and the harmony of its proportions is striking. The graceful, wrought in iron bimah is located in the very center beneath a supporting architrave on four columns, in accordance with Orthodox tradition. The refined aron is sculpted from stone and decorated with a beautiful medallion (lions and griffons surround the Ark of the Law and cherubs hold rimmonim). Engraved on the fragments of stone surrounding the steps can be seen the prayers of Yom Kippur and the new moon, as well as a text written in Aramaic. The multicolored frescoes were added later.
Make sure to visit the old cemetery. It is even older than the synagogue, with some graves dating from 1650.