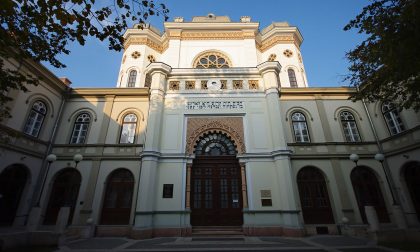 The immense gray dome of  Györ's synagogue stands out against the industrial landscape. Completed in 1870, the structure reflects the prosperity of the city's Jewish middle class -lawyers, bankers, and manufacturers of German or Moravian origin. The massive bronze pillars supporting the octagonal building contrast with the subtlety of the eastern-inspired decor of the galleries, beams, and frescoes. The adjacent building, a former Jewish school, houses the Széchényi art high school.
In a sorry state, the building is slowly being restored by the dynamic association that also organizes concerts and festivals here: in the last week of April through May 2, Györ welcomes a cultural festival called "Mediawave", presenting films and shows from around the world. Concerts (folk and ethnic music or jazz) are held in the synagogue.
The peaceful, fir-lined  Neolog cemetery is located on the bank of the Rapca River beside the Catholic cemetery. It is remarkably well kept -unusual for Hungary- by the caretaker couple who live at the site, Mr. and Mrs. Sandor Seles.
Along the road leading from Györ to Sopron, not far from the city's limits, a statue on the right stands in honor of the great Jewish poet Miklós Radnóti. He died from exhaustion -or perhaps was gunned down- after a forced march from the Balkans to Austria in November 1944.
Razglednice
"I fell beside him; his body turned over,
already taut as a string about to snap.
Shot in the back of the neck.
I whispered to myself: just lie quietly.
Patience now flowers into death.
Der springt noch auf, a voice said above me.
On my ear, blood dried, mixed with filfth."
Miklós Radnóti's Last Poem, 31 October 1944, in Miklós Radnóti, The Complete Poetry, Ed. and Trans. Emery George (Ann Arbor: Ardis, 1980).