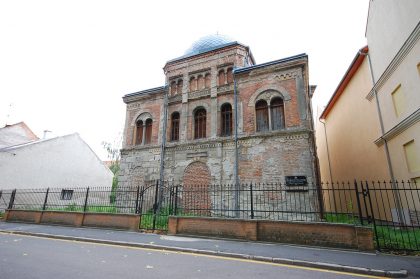 Within this Baroque city, where splendid thirteenth-century houses have been transformed into museums, restoration projects have brought two medieval synagogues back to life.
Built in the early thirteenth century, the synagogue on Uj street is the oldest one in Hungary. So closely does it resemble the one in Miltenberg (Bavaria) that historian Ferenc David suspects Sopron's Jews originated there. Emigrating from Germany and southern Bavaria, they possibly took up residence in Sopron, a royal and independent city at the time where monarch Laszlo IV had granted privileges to bankers and merchants -the only professions Jews were allowed to practice.
Like many medieval synagogues, the building, which in times past served a scale-down but flourishing community, is set back from the street. The raised entrance opens onto a Gothic-style room. The magnificent stone-sculpted aron is surrounded by a frieze adorned with grapes and fig leaves in homage to wine, a symbol of life and celebration of the kiddush during the Shabbat. To its right, a boarded up window was enlarged to allow barrels to pass through. After the Ottoman occupation, the Jews were expelled in 1526 and their businesses transformed into residential housing. The adjoining room, added later (in the fifteenth century), was reserved for women, who could only observe ceremonies through narrow openings, a king of horizontal loophole. In the courtyard, a mikvah dates from 1420.
Located at number 11 on the same street -formerly "Jewish Street", where Jewish and Christian merchants lived side by side- a small synagogue was built in 1350 modeled after the one that preceded it. More precisely, it was a private prayer room belonging to the rich banker Israel and his family.
There's a new synagogue in Sopron, as well as a Jewish cemetery.