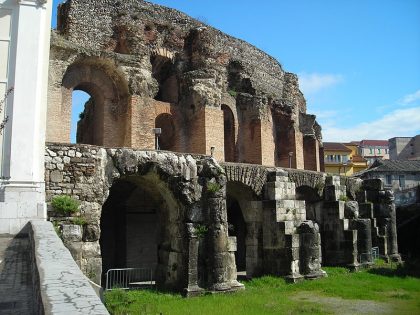 It seems that the Jewish presence in Benevento dates back to at least the 5th century. A yeshiva was established there in the 11th century by Hananeel ben Paltiel, a member of the family of the liturgical poet Ahimaatz ben Paltiel. Benjamin de Tudèle noted there the presence of 200 Jewish families. Which did not undergo the same expulsions from the Kingdom of Naples as the other communities, being under papal protection.
Graves with Hebrew inscriptions dating from the 12th century have been found in the city's  cemetery. Jews then worked mainly in the textile industry, and later in corn.
Nonetheless, expulsion was ordered in the 16th century by a Pope, in the 16th and 17th centuries, notably following spurious anti-Semitic accusations of well poisoning.
There has been no organized Jewish life in Benevento since, but the city has recently attracted Israeli migrants.