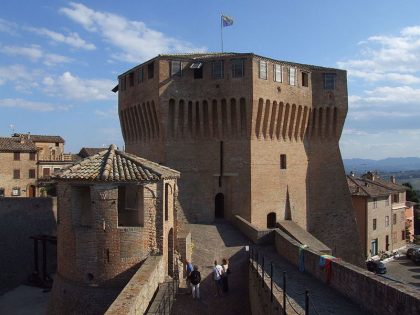 Mondavio is a very old town and was the main town of the diocese of Fano in the 14th century. Its castle, built at the end of the 15th century, testifies to Mondavio's important place in regional civil affairs as well.
The first mention of the Jewish presence dates from 1349. Two Jewish names appear in the Libro dei Nobili e degli uomini d'entrata, a sort of mixture of Who's Who and the Yellow Pages of the time where nobles and members of the commercial life are listed.
Documents showing the taxes paid by all citizens show that the Jews, like the rest of the local population, were part of all social classes. As in many small towns in the region, the life of the Jews became more complicated over the centuries. So they gradually left in the 16th and 17th centuries.
At the end of Via Mazzini you come to Via Borgo Mozzo where the Jews of Mondavio lived.
Sources : Marche Jewish Itineraries by Maria Luisa Moscati Benigni