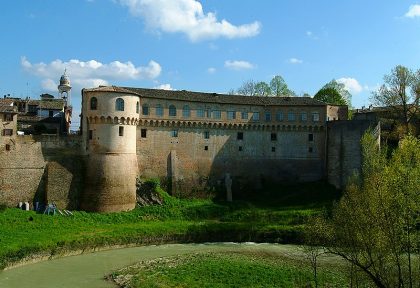 A relatively new town for the region, Urbania was built under the name of Casteldurante in the Middle Ages and then adopted its present name in memory of Pope Urban VIII. Documents dating from 1437 attest to the Jewish presence in the town. Although the Jews were initially forced to work as pawnbrokers, they soon diversified. Some opted for those related to trade or and others to weaving and crafts.
Despite some threats against them, the Jews contributed to the active life of Urbania throughout the 16th century. Nevertheless, relations between Christians and Jews deteriorated at the end of the century.
The duchy fell under the rule of the Papal States in 1633 and the Jews were forced to gather in the ghetto and preferred to leave the city. Temporarily allowed to carry out certain professional activities on local fair days, the Jews only settled in Urbania again at the end of the 19th century, when the city joined the Kingdom of Italy.
As a sign of good integration, one floor of the house of Samuele Moscati, a Jew from Urbino, was used as offices and courtrooms. A building at the entrance to the city, by the Ponte del Riscatto, is called Palazzo degli Ebrei. The synagogue seems to have been located at 17 Via Garibaldi.
Sources : Marche Jewish Itineraries by Maria Luisa Moscati Benigni.