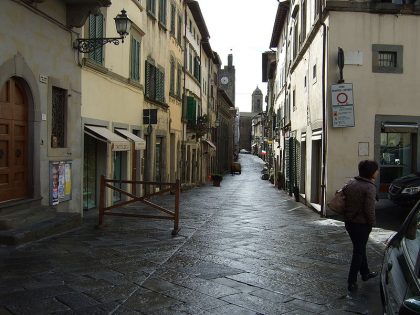 Monte San Savino is a Roman town known for its medieval buildings, especially by the sculptor and architect Andrea Contucci, better known as Sansovino.
The Jewish presence in Monte San Savino dates from at least the beginning of the 15th century. Jewish banking families were prominent in the city at that time and contributed to the development of Monte San Savino. Recognition of this fact encouraged the city at the end of the 17th century to allow the settlement of several families who did not work in the same fields: agriculture, trade, leather work. This was followed by the opening of a synagogue (built from 1732) and a Jewish cemetery.
As a result of these developments, the town had 103 Jews in 1745. This stability lasted for another 50 years, as Jewish residents left the town following a wave of violence.
Traces of Jewish life remain in Monte San Savino. Starting with the ancient synagogue on  Via Salomone Fiorentino, named after an illustrious member of the community, a businessman and man of letters of the late 18th century. Jews lived mainly in this area at the time, but not only there. Jewish graves can still be seen on a plot of land next to the Catholic cemetery. The  Municipal Library has many documents that testify to this Jewish life.
Sources : Tuscany Jewish Itineraries by Dora Liscia Bemporad and Annamarcella Tedeschi Falco