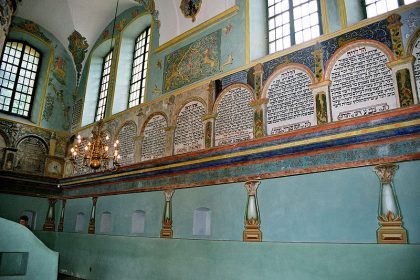 Lancut is a small, pleasant city known for its Renaissance castle once belonging to the Lubomirskis.
The town also possesses a Baroque synagogue, one of the most beautiful in Poland. Built in 1761, destroyed during the war, and rebuilt during the 1960s, it has long served as a regional museum. In the 1980s and 1990s, it was completely restored once more, including the magnificent interior decor, the bimah, and the aron kodesh, where the Ark of the Law is kept. It houses today the Jewish Museum.
On Traugutta Street, at the site of the former cemetery, a plaque commemorates the execution of hundreds of Jews during the German occupation.