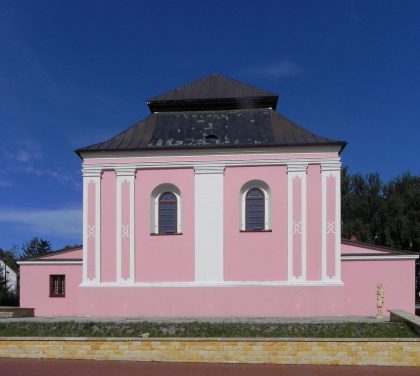 A jewish community sprang up in Szczebrzeszyn in the sixteenth century, while the synagogue was built here in the seventeenth century. In the nineteenth century, the community experienced important growth, jumping from 1083 members (31% of the population) in 1827 to 2450 (44%) in 1897; it also became a center of Hasidic influence centered around the tsadik Elimelech Hurwitz. Before the war, 3200 Jews lived in Szczebrzeszyn; they were all deported to Belzec in May 1942.
Szczebrzeszyn is today a small, tranquil city, with a Catholic church and city hall downtown.
Right near the central square (on Sadowa Street), you will see a tall, distinctive building, squarely set with a sloping roof: this is the synagogue, today a "house of culture". A plaque indicates that it is one of the oldest synagogues in Poland. It is also protected as a national monument. It was burned down in 1940 and rebuilt in 1957.
A path behind the synagogue leads to the Jewish cemetery, which has been swallowed  up by the forest. You will have to clear your way through the ferns and shrubs to visit its many very old graves. In the center, a monument commemorates the execution of the Jews of Szczebrzeszyn in this very spot.