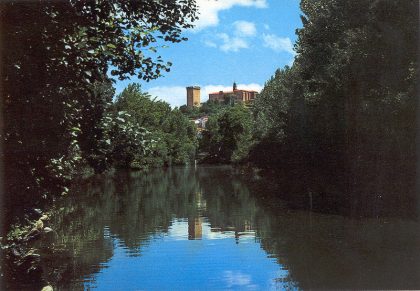 The regional Jewish presence probably dates from the 4th century. The town of Monforte de Lemos, with its medieval charm still very present, was founded at the beginning of the 12th century and the Jewish population participated in its active life relatively early.
The Jewish population grew as a result of exiles from other Iberian cities that were badly affected by the wars of religious conquest and persecution in the country. The Jewish community seemed to have a synagogue and a mikveh, while living in mixed neighbourhoods.
The oldest place where they lived seems to be A Calesa, a street now called  Rua Abelardo Baanante, about 100 metres from the town's tourist office. Then go past the  Monforte Castle to  Rua Falagueira, opposite the old town hall. Here you will find a house that probably housed the synagogue. In the same street was located the house of the Gaibor family, famous at the time. You can walk through this charming town, which has many traces of the Middle Ages in its houses and stories handed down from generation to generation. The streets named above, as well as the  Rua Pescaderias and the  Rua Puerta Nova, in these paths that are more circular than straight and whose detours are rewarded with the tutelage of history.
Sources : Redjuderias.org, London Traveler