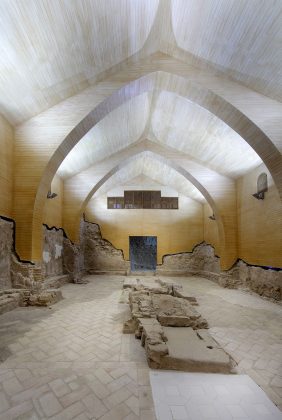 The Jewish presence in Lorca probably dates back to the 13th century. At that time, they were part of the active life of the city, participating in its economic and political evolution, living for a large part of them in the surroundings of Lorca Castle. Among them was José Rufo, who in the 15th century was in charge of the maintenance and defence of the castle. During this period of relative prosperity, they practised different trades: cattle breeders, grain farmers, tax collectors. Less than 200 Jews lived in Lorca at that time.
During archaeological excavations in the area of the castle in 2002, undertaken to develop it into a Parador de Turismo, many traces of the old Jewish quarter were found. In particular, the  synagogue, one of the only ones not to have been transformed into a church following the Inquisition, still has an intact bimah.
A reconstruction of elements that belonged to the synagogue is on display, including 27 lamps reconstructed from 2600 glass fragments found during the excavations. Dwellings from the old Jewish quarter have also been found and can be visited today. The  Municipal Archaeological Museum also has many of the objects found, which are accessible: menoroth, lamps, ceramics, etc.
Sources : Redjuderias.org, Jta.org, Times of Israel