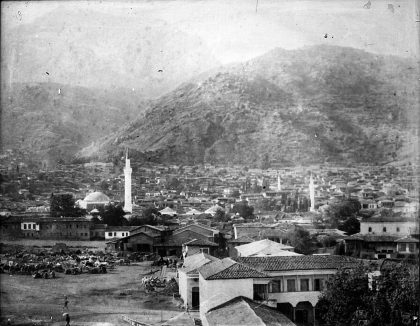 Manisa is 125 kilometres from Izmir. On the wall of a house in the Ayvazpasa district, you can read the following inscription: "Starton, the son of the Jew Tyrannos had this tomb built for his wife, his children and himself". This tombstone dates from the Roman period, between the 2nd and 4th centuries.
From that time until the Ottoman period, there was no evidence of a Jewish community in Manisa. This was the case until 1492, when a number of Jews fleeing Spain took refuge in Manisa. There were 500 Jews in 1531 and 800 in 1575. In 1599, Rabbi Menahem Ben Elyezer, who had come to Izmir from Safed, documented the presence of a Jewish community in Manisa in his book Shir HaShirim. Today, there are no longer any Jews in Manisa. However, they have left valuable historical traces.
There were two Jewish cemeteries in Manisa, which disappeared during the urbanisation of the city. The Jewish cemetery next to the Alaybey mosque (Dilsikar Hatun) was transferred to the Muslim cemetery to the east of the city. The lack of maintenance of the tombs has made the inscriptions illegible. The oldest tomb belongs to Yosef Bueno Bira and dates from 18 adar 5683 (18 March 1933). The most recent tomb belongs to Davi Süzen and dates from 17 February 1950.
Three mosaics from the Sardis synagogue are on display in the Manisa museum. The museum's garden contains tombstones from the town's former Jewish cemeteries.
The town's paediatric hospital was funded by Moris Sinasi and opened in 1933.