Synagogue of Uzhhorod
Rus'ka St, 36, Uzhhorod, Zakarpattia Oblast, Ukraine, 88000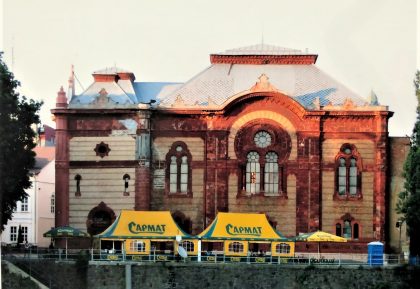 The Jewish presence in Uzhhorod probably dates from the 16th century and has been a recognized center of study for the presence of numerous rabbinical referents. Among them, Solomon Ganzfried (1804-1886), author of the Kitsur Shulkhan Arokh which is still considered today as a reference work. An intellectual development encouraged by a Hebrew printing press present since 1864, reflected by the different Orthodox and Hasidic movements and their written production, Jewish schools and Yeshivoth.
In 1904, the beautiful  synagogue of Uzhhorod was inaugurated. Built by architects Gyula Papp and Ferencs Szabolcs, it is constructed in a Neo-Byzantine style.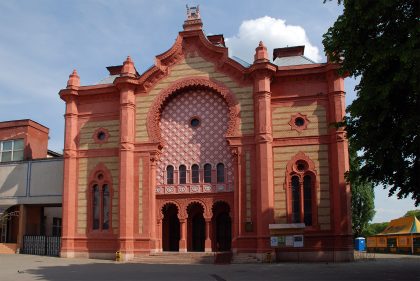 When the city came again under Hungarian control (which was the case prior to WWI) after the Munich accords and the German attack on Czechoslovakia, anti-Jewish measures were taken and Polish Jews expelled to their homeland.
In 1944, a massive deportation to Auschwitz was organized in Transcarpathia. Thus, if in 1930 there were 7,357 Jews in Uzhhorod, after the expulsions and especially the deportations, only a few hundred returned to the city following the war.
In 1947, the neo-Byzantine style synagogue was transformed into a concert hall by the Soviet authorities. The building is intact and a Beth Chabad now provides prayers there. The community of Oujhorod today centralizes Jewish activities for the towns of the region.