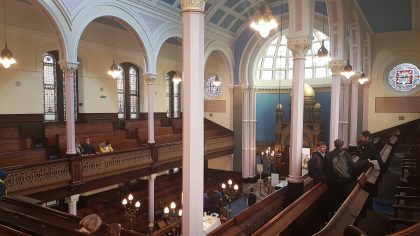 Interview with Kerry Patterson, Manager of the Scottish Jewish Heritage Centre, about the Garnethill synagogue and the European Days of Jewish Culture
Jguideeurope: Could you tell us a bit more about the history of Garnethill?
Kerry Patterson: The first organised Jewish community in Glasgow can be traced to the early 1820s in the High Street. Fifty years later, the community, which by then numbered about 1000 persons, had outgrown various premises looked to build a permanent home. The decision to build a synagogue on the corner of Garnet Street and Hill Street was made in 1875, and many members of the community then settled in this up-and-coming area.
Benjamin Simon, one of the synagogue's trustees, set the foundation stone in 1877. Designed by John McLeod and Nathan Solomon Joseph, the first purpose-built synagogue in Scotland was opened in 1879 and soon became a landmark architectural example of the high Victorian style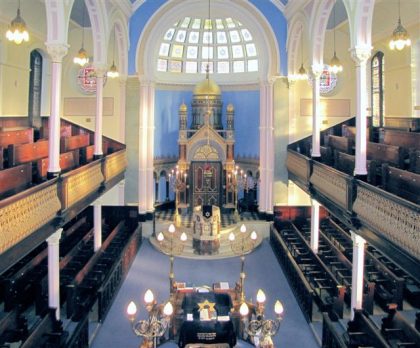 Are you organizing an event or exhibition this year to promote Jewish heritage?
Kerry Patterson: On the 27th of July we launched the Scottish Jewish Heritage Centre, in Garnethill Synagogue. The Centre facilitates the sharing of information about the Category A listed building, the unique Scottish Jewish Archives Centre's collections and aspects of Scottish Jewish history and culture. An experience enabling visitors to discover our 200 years experience of Jewish Scottish life. The Centre is a partnership project between the Scottish Jewish Archives Centre (SJAC), Garnethill Synagogue Preservation Trust (GSPT) alongside Garnethill Hebrew Congregation – all of which are based in Garnethill Synagogue.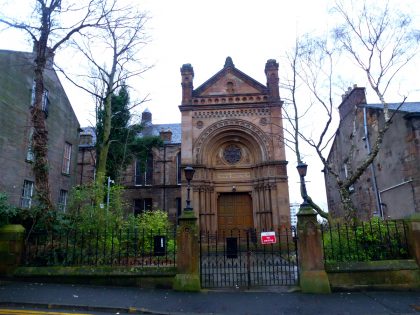 Important funds enabled us to provide new interpretative displays, a study room housing a specialist Holocaust-era reference library, digital research resources and a school visit facility. Along that, major building restoration and renovation work in the lower level of the synagogue has improved public access to underused spaces. The new displays help the visitors understand the complicated period from 1933 to the 1950s when Scotland took in refugees fleeing Nazi persecution in Europe.
Most important, the sharing of this heritage with the future generations. School students visiting will be able to use interactive learning kits, based on Holocaust-era refugee collections held in our Archives. Among those resources available the poignant experiences of refugees Dorrith Sim, Ernst Marchand and Hilda Goldwag who fled Europe, and found a safe haven here in Scotland. Students will be able to reflect on wider issues of citizenship, democracy, persecution and belonging, through the refugees' experiences.
Visitors can find out more at www.sjhc.org.uk