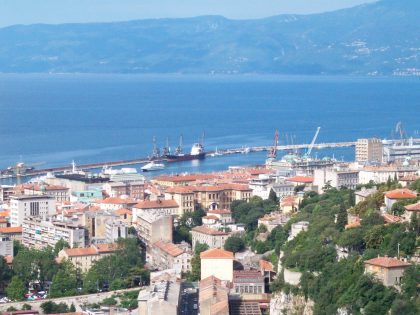 The Ashkenazic synagogue, built in the nineteenth century after a design by Hungarian architect Lipot Baumhorn, was destroyed in 1944.
The Sephardic synagogue, built in 1928, is still used by the city's Jewish residents. The community today consists of around a hundred members, as compared to the nearly 2000 it numbered before the war.
The Jewish presence in Rijeka probably dates back to the 16th century, when the city was under Austrian rule. It increased in the following centuries, coming from Split, Dubrovnik and Hungary. The religious rites were varied, reflecting the make-up of the community, with Jews migrating from Germany, Bohemia, Germany and Italy. At the turn of the 20th century there was one synagogue, built in 1902, and three Jewish cemeteries. 2000 Jews lived in Rijeka.
As in the rest of the country, the Holocaust claimed many victims. After the war, many survivors left for neighbouring Italy. Less than 200 remained in Rijeka. In 1969, there were only about 100 survivors. This number stabilised afterwards, especially with the arrival of Bosnian Jews during the 1992 war.
Sources : Encyclopaedia Judaica