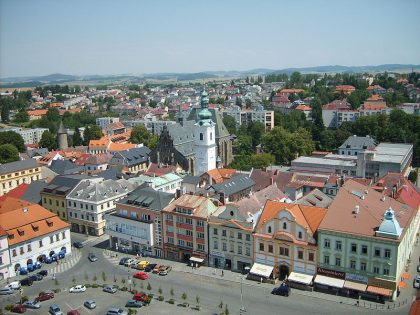 Klatovy is a Bohemian town known for its old markets on the roads to nearby larger towns.
The Jewish presence in Klatovy has been documented since the 14th century, but was not very present in the following centuries until the 19th century. In the middle of the 19th century, Jews, mostly from the surrounding villages, established a community in Klatovy. A synagogue and a cemetery were opened in the 1870s. More than 1300 Jews lived there.
Very active in the economic life of the town, it continued to attract newcomers. Nevertheless, the Jewish population began to decline at the turn of the 20th century.
The synagogue was sacked in 1941 and the Jews of Klatovy deported the following year. Some relics from the synagogue were saved and sent to the Jewish Museum in Prague. The synagogue and the Jewish cemetery were put back into operation after the war. A monument commemorating the Jews of Klatovy deported during the Shoah was erected in the cemetery in 1989.
Sources : Encyclopaedia Judaica