The city of Kolín, one of the most important places of Jewish remembrance in the Czech lands, is worth a trip to see the small streets of the Jewish quarter and the magnificent cemetery.
Overrun with vegetation, the cemetery's atmosphere recalls that of Prague's old Jewish cemetery before it became a usual stop for large tour groups. The Jews settled in this town close to the Kutná Hora and its silver mines as early as the fourteenth century. Expelled and then allowed to return in the sixteenth century, the Jews' homes stood in what was probably already the ghetto dating from the time they first settled in the city. The Jewish section was in the western corner of the city's old walls near the large central square.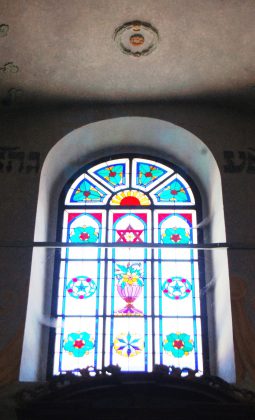 Zidovska ulicka (Street of the Jews), lined with small Baroque and classical houses, has been transformed into two streets, Na Hradbach and Zlata streets. You can still see the building housing the school and synagogue, constructed in 1642 and enlarged in the eighteenth century, with the addition of decorative stuccowork on the arches. The Baroque aron is also eighteenth century. Active until World War II, it is no longer in use. A small portion of its ornaments and religious objects are preserved in a synagogue in Colorado in the United States.
The old cemetery is accessible from Slunecni Street; the former main entrance on Kmochova Street is now closed. The cemetery was enlarged several times during its history until its closure in 1887, and it contains more than 2600 gravestones. The oldest graves date from the beginning of the fifteenth century. The new Jewish cemetery, which is at the edge of the city in the neighborhood of Zálabí, is not particularly interesting.