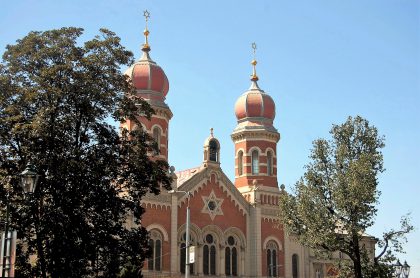 Plzen is the principal center and beer capital of wester Bohemia. The Jews were expelled from the city in 1504 and not permitted to return for more than two centuries. Following the industrial and urban development in the nineteenth century, a Jewish community resettled here and flourished. In 1921 more than 3000 Jews lived in Plzen.
Three synagogues were built in Plzen in the nineteenth century. The most interesting of the three stands to the west of the historic city center on Nejedleho Sady. Crowned by two towers, this magnificent neo-Romanesque building dates from 1890. No longer active, it is slated to become an exhibition space about Jewish life in Bohemia. A small prayer hall was established at 80 Smetanovu Sady, in 1988.
The neighboring villages still have traces of the life of the small local Jewish communities, especially Radnice (approximately twelve miles northeast), which has a small Jewish quarter, an eighteenth-century synagogue (now a storage facility), and a small cemetery. Rokycany (about nine miles east of Plzen) also merits a visit.