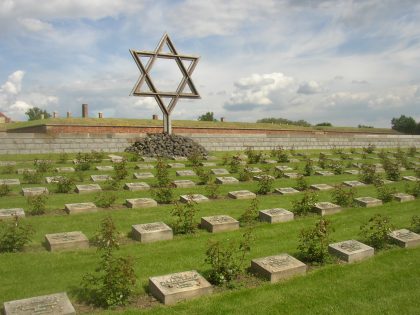 The lovely little garrison town of Terezín in the same region was created at the end of the eighteenth century during the reign of Joseph II. In 1942, the Nazis totally emptied the city of its 7000 inhabitants -with the exception of Jewish families- and transformed in into a ghetto and transit center for Czech Jews of the capital and surrounding lands. Some 57000 Jews were held in Terezín's newly formed ghetto. As many as 152000 deported Jews of fifty-three different nationalities passed through the town, including 74000 Czechs. More than 30000 of the imprisoned died in the ghetto. Approximately 87000 departed from Terezín to the death camps, of which only 3000 returned. A quarter of the ghetto's inhabitants died of illness related to lack of hygiene and malnutrition. Despite the terrible conditions and mass arrests, the prisoners succeeded in maintaining a minimum of organization and social life, with centers for study and prayers. Of the some 150000 Jews transited through Terezín, the 3000 who stayed there several years received a basic education, in secret since schools were prohibited. The brightest stars of the Jewish-Czech intelligentsia were sent to this ghetto, including sculptors, painters, musicians, writers, and other intellectuals, whose presence was used as part of the Nazi propaganda machine. A delegation of the International Committee of the red Cross was authorized to visit the ghetto in June 1944. When the camp was liberated on 8 May 1945 by the Red Army, 6800 Jews were still in detention.
A memorial was erected in 1955 in the eastern part of the cemetery with text in Hebrew and Czech. Close to 13000 persons -in 11250 individual graves and 215 communal burial pits- were buried between 1941 and 1942 in the ghetto's cemetery, beside the municipal cemetery. The crematorium constructed by the Nazis at the time has been transformed into an exhibition space. At the end of 1944, the ashes of the 22000 victims were thrown into the nearby Ohre River. A small burial mound in memory of those who died has been erected on the riverbank.
On a hill above the city stands the Kleine Festung (small fortress). This former Austrian prison served as a Gestapo interrogation center where some 35000, including a number of Resistance fighters, were questioned and imprisoned. The remains of 26000 of these prisoners are buried in the national cemetery in front of the center. Since 1962 the town of Terezín and its fortress have been national museums.