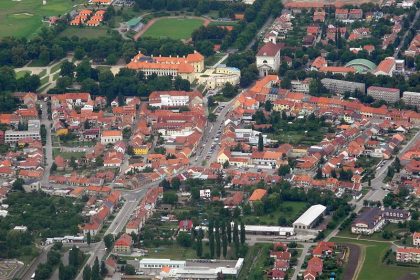 Austerlitz, Slavkov u Brna in Czech, is a town most famous for the Napoleonic battle of 1806.
The Jewish presence in Moravia is one of the oldest, with a Jewish cemetery dating from the 12th century. Among the illustrious figures from the town is the author of the Sefer ha-Minhagim (1294), Moses ben Tobiah. There was also a yeshiva in Austerlitz at that time.
At the beginning of the 17th century, the town had about 60 Jewish families. At the end of the century, the Jewish cemetery was destroyed. The synagogue was destroyed by fire in 1762 and rebuilt through the collective effort of the surrounding communities. A new synagogue was inaugurated in 1857 and a new Jewish cemetery was used fifteen years later, the Jewish population at that time being 544. However, the population declined over time to 66 in 1930. Some managed to escape the Nazi invasion of 1938, but many were deported during the Holocaust.
The synagogue is now used as a Jewish museum and has a memorial plaque to commemorate the victims of the Shoah. There's also a Jewish cemetery left in town.
Sources : Encyclopaedia Judaica