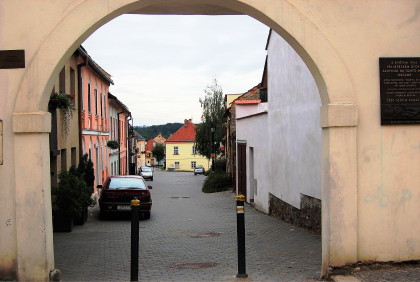 Boskovice is located nineteen miles north of Brno. This large center of Jewish culture and study of the Torah was for many years the headquarters of the chief Rabbinate of Moravia.
The fifteenth-century Jewish quarter extends from the present-day Bilkova and Plackova Streets, near the large square. The original plan, with the ghetto gate always visible and the tiny streets lined with two-story houses, has remained almost completely intact despite the renovations and restorations undertaken in the nineteenth century.
The Grand Synagogue is on Traplova Street, in the heart of the former ghetto. The original seventeenth-century building was remodeled in the nineteenth century in a neo-Gothic style.
The cemetery is one of the largest in Moravia. There is a new (small) museum that can be visited. Every year, a music festival is held in the Jewish quarter.