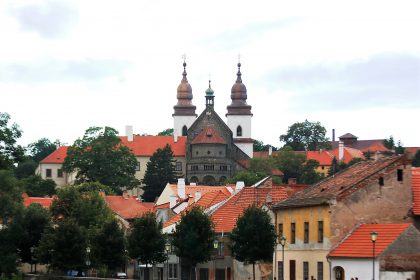 The city of Trebíc is located thirty-one miles north of Brno on the other side of the Jihlava River. Its Jewish quarter, near the city center, was one of the largest in the country: in the middle of the nineteenth century, it counted more than a hundred houses. The quarter grew beginning in the sixteenth century, and even today many of its residences retain some traces of their Baroque or Renaissance origins.
The Old Synagogue, on Tiché Square west of the former ghetto, was erected in the eighteenth century on the remain of a very old wooden synagogue. Destroyed several times by fire, it was rebuilt in a neo-Gothic style and enlarged for the last time in the nineteenth century. After the war is became a place of worship for the Hussite Church.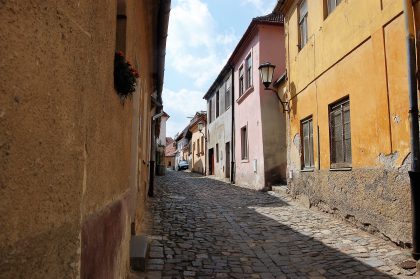 The New Synagogue on Blahoslavova Street was probably also built on the remains of a wooden building dating from the eighteenth century. It was remodeled in 1845 and 1881. Now an exhibition and concert hall, it retains part of its interior decoration, most notably its stuccoed ceiling.
Although no trace remains of the former cemetery near the castle, it is possible to visit the large cemetery -with over 3000 gravestones- on Hradek Street not far from the Old Synagogue. The oldest stones date back to the beginning of the seventeenth century.