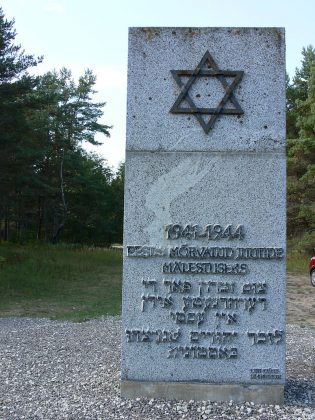 Of interest in Klooga is the Shoah Victims' memorial. A concentration camp occupied the site and another was in Vaivara.
Between August and September 1943, the 9,000 people still present in the Vilnius ghetto were sent to the concentration camps in Estonia. The three main camps were those of Valveira, Klooga and Lagedi. Each of these camps kept nearly 3,000 people. About 20 other smaller camps imprisoned the rest of the deportees.
In July 1944, faced with the approach of Soviet troops, the concentration camps were gradually evacuated and the prisoners transferred to the Stutthof camp. 426 Jews were murdered at Lagedi camp on September 18 and 2,500 the next day at Klooga camp. Only 85 prisoners managed to hide and survived. This camp was liberated a week later by the Red Army.
In 1994, a  monument in memory of the victims was erected on the site of the Klooga camp.