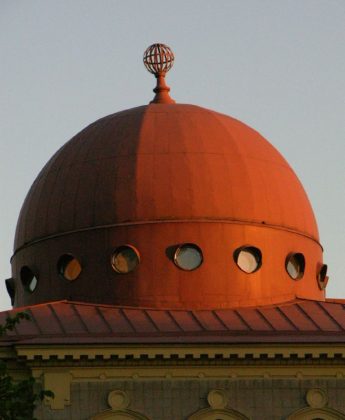 The city of Helsinki decided to donat a plot of land to the Jewish community in 1900 in order to build a synagogue. It is located on Malminkatu Street.
A neighborhood where many of the city's Jews lived at the time, who settled around the market where they could sell second-hand clothes, one of the only professional activities allowed in the 19th century.
The  Helsinki Synagogue, famous for its Byzantine-style dome, was built by architect Jac Ahrenberg in 1906. Twenty years later it was extended.
Since then, it can accommodate up to 600 people, seated around the bimah which occupies the center and above which there is a magnificent chandelier.
Built on three floors, the synagogue's architectural style is similar to that of most synagogues of the time, with symmetrical windows in the center. And on the sides, three small round windows with a maguen david in each one.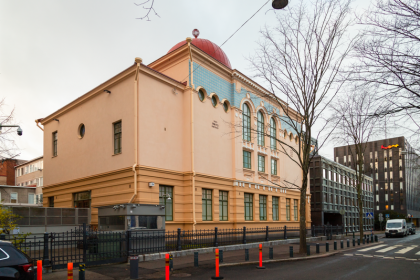 In the years 1920-1930, the  National Library of Finland hosted many works in Yiddish published during the last decades of the Russian Empire. The community also offered many theatrical performances in Yiddish at the time.
In 1967 a community center was built adjacent to the synagogue. There are made available to allow a Jewish life for the members of the community. Among these services: a Jewish school, classrooms and conference rooms, an auditorium, a retirement home and a mikvah. The community center also includes a Jewish library of 5,000 volumes. A copper Torah sefer ornament can be seen there from the city's first synagogue, built of wood in 1840.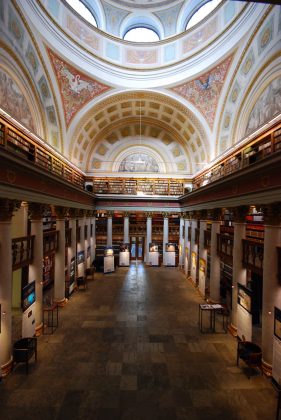 The center houses the Hazamir choir (founded in 1917), which has already performed at the Finnish Cultural Center in Paris, the bi-monthly magazine Ha-Kehila and all Jewish organizations in Finland.
The city has two  Jewish cemeteries located in the place of the city gathering most of the graves. An ancient cemetery built in the 1840s and a new cemetery in 1895. The first being closed and the second currently used by the Jews of Finland.
Today, the Helsinki Synagogue regularly hosts a few dozen worshipers during ceremonies and prepares vegetarian meals for Shabbat celebrated there. Most of the Jews in Finland are vegetarians. The synagogue is Orthodox, although most of the Jews in Helsinki are less observant. Morning prayers are celebrated in a small hall of the synagogue.
The few dozen members of the liberal movement have no place of worship and are attached to the liberal community in Copenhagen.
Yiddish is experiencing a revival in Helsinki, in particular thanks to the international meetings of Limud (written Limmud in English).