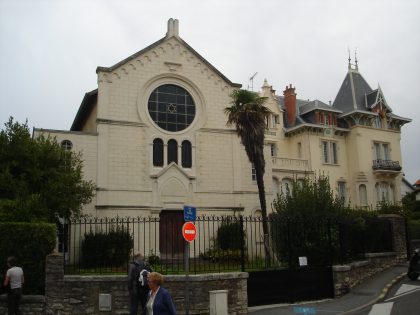 The Jewish presence in Biarritz was very weak until the end of the 19th century. The Jews present are mainly attached to Bayonne for the celebrations of religious festivals and ceremonies. However, the transformation of the fishing town into a renowned summer and spa destination will be a game-changer.
The community of Biarritz really took shape at the end of the 19th century, following a request from brothers Gabriel and Emile Pereyre to the consistory of Bayonne. The beginnings of construction take place from 1896 according to the plans of the architect Charles Pasquier.
The inauguration took place on September 7, 1904. The  synagogue is located in a beautiful part of the city, near the Imperial Palace and the Russian Church. It is in the Roman-Byzantine style. With a sober facade, a large rose window, stained glass windows and a tebah installed in front of the Héchal.