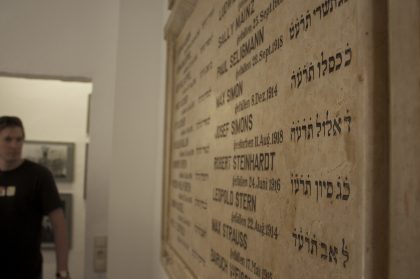 The small city of Friedberg possesses the deepest mikvah in Germany: seventy-two steps carved into the basalt lead the visitor to a natural spring situated eighty-two feet below the surface.
At the bottom of the staircase, a stone tablet dedicated to the builder of this bath displays the date of its origin in 1260.
An octogonal opening in the dome above is the sole source of light and gives the illusion of the moon's constantly shining in the somber depths of the water.
Once a prosperous Jewish Community, it was decimated during the Holocaust. Among the famous people from the city, one can find the entrepreneur Ernest Oppenheimer.