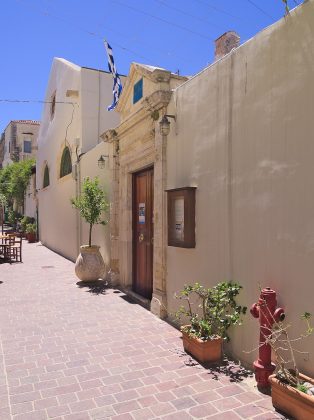 The oldest synagogue in Canea,  Etz Hayyim, lives again after a half century of neglect. Raised from its ruins by Nicholas Stavroulakis, former director and founder of the Jewish Museum of Athens, it was rededicated in October 1999. (It should be noted that its reopening was violently protested by the island's prefect.)
Etz Hayyim appears to have been the former Venetian oratory of Santa Caterina, yielded to the Jewish community in Canea in the seventeenth century by the Ottomans. It is designed after Venetian-inspired Romaniote synagogues: the main entrance faces north, while the aron kodesh and the bimah face each other on an east-west axis. Both synagogues were rebuilt with exotic wood, made possible by donations.
From the southern wall, a door provides access to an upper floor where women were permitted. The mehizah is also accessible by way of the courtyard. The roof of the ritual bath, the mikvah, located on the first floor, has also been redone. Numerous inscriptions have been uncovered as well.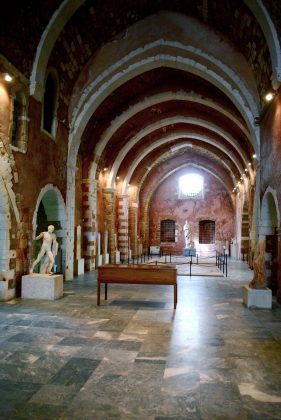 A second temple, the "New", or Shalom Synagogue, once stood in this district, still called Evraiki to day ("Jew" in Greek). It was completely destroyed by bombardments during the 1941 Battle of Crete.
The Archaeological Museum, located on Halidon Street, an artery parallel to Kondylaki Street, contains evidence of Jewish life in Canea. In an outdoor courtyard, six medieval epitaphs in Hebrew are on display. Inside, three other, more recent ones can be viewed as well.