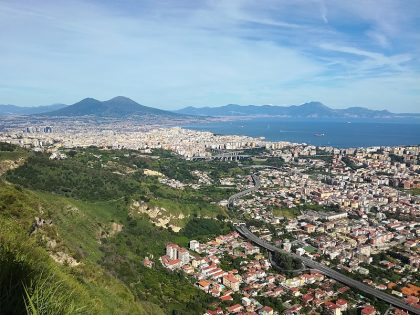 Naples is known for Mount Vesuvius, the volcanic enthusiasm of its people, the pages of Elena Ferrante and more recently the films of the great director Paolo Sorrentino.
The Neapolitan Jewish presence dates back to at least the first century, as mentioned in the texts of Flavius Joseph. As archaeological finds from 1908 attest, Jewish life in the 4th century was significant. Graves from this period have been found with inscriptions in Greek, Latin and Hebrew. These inscriptions are decorated with menoroth and citron.
The Jewish community had a synagogue and a school as early as the 11th century in the giudecca in San Marcellino, near Via dei Tintori. During the visit of Benjamin of Tudela in 1159, he noted the presence of 500 Neapolitan Jews. Despite some exactions at the end of the 13th century, the situation of the Jews in the Middle Ages was relatively happy and egalitarian. This motivated the arrival of migrants, especially after the Spanish Inquisition.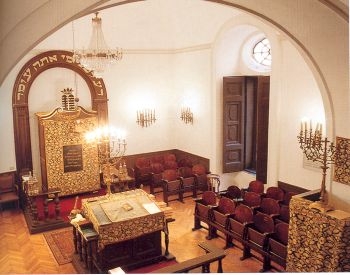 A Hebrew printing house was opened at the end of the 15th century. At that time, about twenty books were published by the printers Gunzenhausen, Soncino and Katorzo. These were mainly biblical texts, but also a Hebrew translation of Avicenna's medical texts. Nevertheless, in 1510 the Neapolitan Jews were expelled. The resettlement of the Jews was temporarily allowed from 1735 to 1746. The Jewish community managed to take shape in the 1830s, thanks to the Rothschild family. A synagogue was inaugurated in 1864, in Palazzo Sessa, which remains the community's place of worship today. The ancient Jewish cemetery is located at Via Cimitero Israelita
The Jewish community was mainly present in Via Cappella Vecchia. About a thousand Jews lived in Naples in 1931. Some Jews were murdered during the Holocaust, but the Allied landing saved the vast majority of them. As an important Allied base after the 1943 landings, many Jewish soldiers helped rebuild the community. At the end of the war, 534 Neapolitan Jews were registered. In 2023, there were only 200.
Sources : Encyclopaedia Judaica, JC, Times of Israel