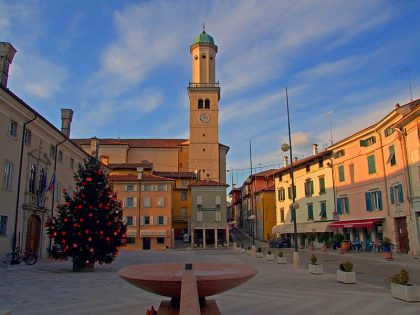 As a border town between Italy and Austria, Cormons has been home to Jews probably since the 16th century. In 1565 the Archduke Charles of Austria granted protection to the Jews of the region.
The trades practised by the Jews diversified over time. Thus, not limited to certain financial activities, they distinguished themselves in the production of spirits and in leather. In particular, they worked with silk.
In 1764 there were 17 Jews in Cormons. The Jewish community disappeared at the end of the 19th century, mainly as a result of the rural exodus. Jewish merchants from Gorizia continued to export local fruit. The last Jew in the town was Giuseppe Pincherle, a pensioner from Trieste who settled in Cormons in the 1930s. He was deported to Birkenau during the Holocaust.
The Jewish quarter was located around the  Piazzetta Patriarchi. If the area has been rebuilt, one can see what it looked like in a painting by the local painter Ermete Zardini (1868-1940). In a building on Via Patriarchi 23, plaster cornices that probably belonged to an  ancient synagogue still exist.
Sources : Jewish Itineraries (de Silvio G. Cusin et Pier Cesare Ioly Zorattini)