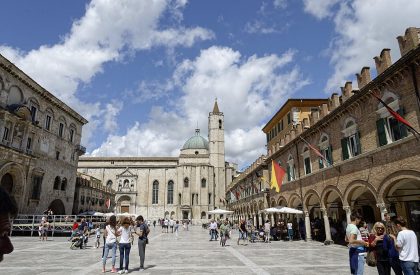 The town still has many buildings showing architectural influences from many periods: Roman, medieval, renaissance, modern… The Jewish presence in Ascoli Piceno is attested since 1297 when three Jews were allowed to settle there, as part of a consortium of twenty-two financiers. Documents seem to indicate that in the 14th century the Jews were not confined to certain areas. Professional activities were gradually diversified.
The community had a cemetery in the 15th century near Campo Parignano, but there is no trace of this place today due to the construction of houses in the area. A cemetery has been used by non-Christians since the 19th century.
An oratory was opened in 1515 in the neighbourhood of  Sant'Emidio. The community grew at that time, especially with the arrival of Jews from Naples who were welcomed in the area. However, the situation deteriorated and the Jews had to live in a separate area between Via Enos d'Ascoli,  Via Giudea and  Rua David d'Ascoli. The latter is named after the doctor who published "Apologia Hebraeorum" to oppose discrimination against the Jews and was consequently imprisoned. They were forbidden to practice certain trades and were then expelled in 1569. Allowed to return, they were expelled again in 1678.
The Ascoli surname is borne by many Jews, probably in connection with the town of origin. Among them are Albert Abram Ascoli, a doctor who pioneered vaccination against tuberculosis, the linguist Graziadio Isaia Ascoli and General Ettore Ascoli, who died fighting Germany in 1943.
Sources : Marche Jewish Itineraries by Maria Luisa Moscati Benigni and Encyclopaedia Judaica