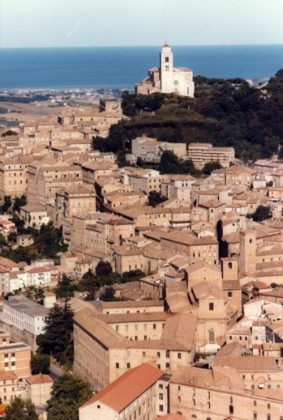 Fermo is a very old city, built in pre-Roman times, probably 3000 years ago. Its many palaces, cultural and religious sites still bear witness to this antiquity. The first document mentioning the Jewish presence dates from 1229, indicating the appointment of Jacobus Judei to the first municipal council.
The famous Italian poet Immanuel da Roma (1261-1328), nicknamed Manoello, lived in Fermo until the end of his life. Inspired by various sources, both Jewish and Christian, he left an important work of poetry, but also of exegesis and linguistics.
During this period, Jews distinguished themselves in many areas of local active and intellectual life. A symbol of this openness was Elia di Sabbato, surgeon to the papal authorities from 1407. He was ennobled by the local authorities of Fermo. A street now bears his name.

Nevertheless, other public figures tried to reverse this course, demanding the limitation of the rights granted to the Jews. The situation remained quite positive, however, as the Jews diversified their activities in the 15th century, especially in the leather, textile and cosmetics sectors.
The ancient giudecca was located near the present Corso Cavour. A synagogue was located there according to ancient documents.
A ghetto was established in 1566 around the present Via Bergamasca, behind the Torre Matteucci. Buildings from this period, as well as a former synagogue, are still located in Vicolo Silvestri. Due to a relative deterioration of the situation, the Jews gradually left Fermo to settle in Pesaro, Senigallia and Ancona.
Sources : Marche Jewish Itineraries by Maria Luisa Moscati Benigni