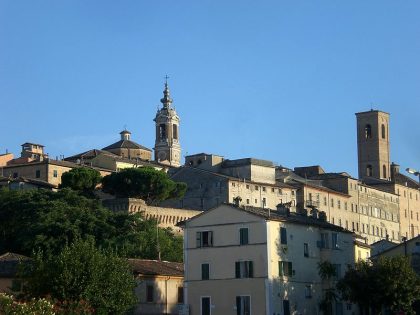 Jesi is an ancient Roman city, known for its medieval walled old town. Its squares, churches and other buildings bear witness to the passage of time.
The Jewish presence is mentioned in documents from 1431. A certain Benedetto and the Vivanti family were important figures in Jesi's financial life, as Jews were initially restricted to these professions. In 1459, Jewish residents succeeded in obtaining equal citizenship rights with the general population, allowing them to buy land. It was at this time that the community was able to obtain a plot of land to bury the dead.
The location of this ancient cemetery seems to have been near the Via Piccitu, where the stele of Rabbi Moses, which is said to date from the 16th century, was found in 1928. It is currently on display at the Jesi Civic Museum. The museum has two other text sculptures. The first one in Latin, describing the situation of the Jews under Pharaoh. The second in Hebrew.
The professional activities of the Jews of Jesi diversified in the 16th century, especially in the silk, metal, wine and medical sectors. The first reference to a synagogue is in a document of 1532, which tells of a dispute that took place there among the faithful. Ten years later, the Jews gradually left the city following a papal bull. Only a handful of Jews were allowed to resettle over the centuries.
Sources : Marche Jewish Itineraries by Maria Luisa Moscati Benigni