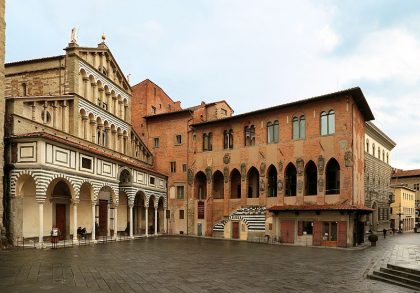 The city depended on Florence for its expansion, which was possible mainly from the 19th century onwards, thanks to the growth of its agriculture and industry at that time. Its medieval and later palaces bear witness to the architectural and artistic wealth of Pistoia.
As in many cities in the region, Jews were first allowed to settle in order to practice banking. These were forbidden to the locals and the Jews were not allowed by the political authorities to practice other trades.
Thus, two Jews settled there in 1397 to open a loan bank. Others were able to settle there later. Rare historical documents from this period are kept in the  State Archives of Pistoia. As in most cities in the region, the Jews of Pistoia were expelled in 1570 and forced to move to Florence and Siena. Nevertheless, some of them resettled there in 1641. The city had its own small ghetto at the beginning of the 18th century, in the area around  Piazza dell'Ortaggio. A synagogue was probably located in this square.
Sources : Tuscany Jewish Itineraries by Dora Liscia Bemporad and Annamarcella Tedeschi Falco