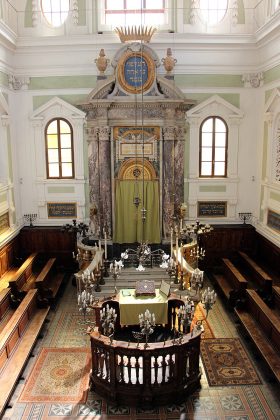 Siena's ghetto was created at the same time as that of Florence in 1571. The large Jewish presence in the city is verified by documents from the beginning of the thirteenth century that mention a universita iudarum. The Jewish quarter is in the heart of the city, near the Piazza Campo and between the present-day Via San Martino and Via di Salicotto. The narrow little streets and tall houses were partly destroyed during the urban renewal projects of 1935, but certain of them have kept their original appearance, as with the buildings in Via delle Scotte near the synagogue and the names of streets like the Vicolo della Fortuna and the Vicolo della Manna.
The lovely neoclassical  synagogue was built in 1756 according to the design of the Florentine architect Giuseppe Del Rosso. The construction lasted thirty years. At the center of the large, high ceilinged hall is an elegant sculpted wood bimah decorated with nine-armed candelabras. The windows are surrounded by moldings in the shape of ionic columns, and among the Baroque stuccowork, the walls feature fourteen verses from the Bible. The beautiful eighteenth-century aron is surrounded by marble Corinthian columns.
Facing the synagogue, in Via degli Archi, stands the old fountain of the ghetto, which once boasted a statue of Moses. The statue was removed in the twentieth century dur to pressure from indignant Orthodox Jews, who saw the statue as a transgression of the law forbidding representation of the human figure. It is now located in the  local museum.
At the gates of the city on Via Certosa, one can see the old Jewish cemetery, whose oldest graves date to the sixteenth century.