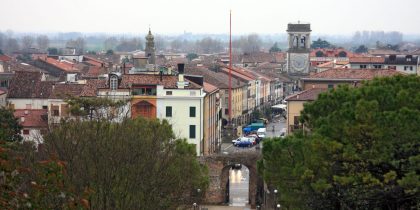 Este is a very old town, which served as a military base and was rebuilt around a castle following a destruction. It reached its peak during the Venetian era. Documents dating from 1389 attest to the settlement of Jews in Este in order to open a banking institution.
A Jewish ghetto was established in 1666, in the San Martino district. It consisted of only a few houses and was accessible through a single entrance. As a sign of a relatively peaceful life, Emilio Morpurgo was elected several times to the Parliament of Este-Monselice. On 8 September 1943, the Jews of Este were arrested and sent to concentration camps, ending their presence in the town.
It seems that a Jewish cemetery in the neighbourhood of San Pietro was used as early as the end of the Middle Ages, but no trace has been found. A second cemetery was used between the 17th and 19th centuries in Via Olmo. Some gravestones have been preserved.
Sources : Veneto Jewish Itineraries by Francesca Brandes