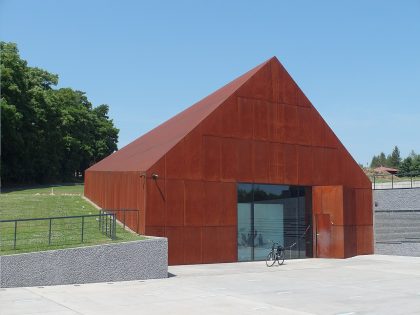 In the second quarter of 1942, the Germans began liquidating the Polish ghettos. According to the process put in place by the Occupier, the Jews of the village of Markowa, near Lancut, and those of the surrounding villages, were first sent to the Pelkiny camp, then to the Belzec death camp. Anticipating the worst in the face of this growing terror, many Jews went into hiding. The Germans regularly organised searches for fugitives. Those captured were usually shot in the village where they had taken refuge.
After sheltering 8 Jews from Lancut and Markowa under their roof, the Ulma family suffered the same tragic fate as Poles who sheltered Jews. On 24 March 1944, following their denunciation by a policeman from Lancut, the Jews sheltered by Jozef and Wiktoria Ulma, themselves and their 6 children, aged between 8 years and 18 months, were shot by the Germans. More than 20 other Jews remained in hiding in Markowa until the end of the war.
Today, the museum named after the Ulma family carries out cultural activities, studies and documentation work, as well as educational activities. The cultural programme includes exhibitions, concerts, film screenings, meetings and other initiatives. The museum organises commemorations dedicated to the Ulma family and other Poles who saved Jews, as well as to the fate of persecuted Jews. Documentation and scientific studies consist of collecting and studying sources relating to Polish aid to the Jewish population. Witness accounts and documents are constantly coming into the museum, and the permanent collection is constantly being enriched.