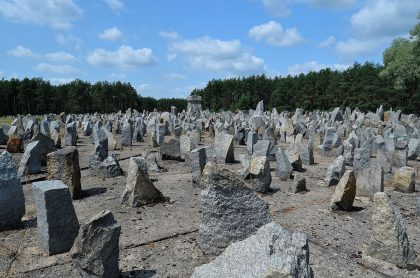 Arriving in Treblinka by train recalls the horror of the Warsaw Ghetto inhabitants' final trip from the Umschlagplatz to the gaz chambers. To reach Treblinka from Malkinia, the railway line follows hairpin switches: the train must therefore stop and travel in reverse, with the locomotive pushing the cars toward the camp, as explained by railroad worker Henryk Galkowski in Shoah, a train conductor who made the trip three times a week over an eighteen months period.
The railroad line crosses the Bug, then a rather thick pine and conifer forest. At the Treblinka station, an unusued and rusted freight train still sits, as if parked there since its final trip. The site of the camp is located almost immediately past the station, at the end of a short path leading into the forest toward a concrete ramp designed to resemble railroad ties. Nothing remains of the camp but information panels in several languages, as the Germans destroyed it all to cover up their crime.
At the very end sits a large, circular space covered with tombstones, each symbolizing a shtetl, small Polish town scoured of its Jews. The stones bear the place names of hundreds of towns from the Warsaw, Bialystok, Vilnius, Minsk, and Mazowiecki regions, among others. There is a stone dedicated to "Janusz Korczak and his children". In the center, a stone-branch candelabra. The site is extremely still and encourages reflection.