Shaare Tikvah Synagogue of Lisbon
Rua Alexandre Herculano 59, 1250-010 Lisbon, Portugal
National Museum of Art of Lisbon
R. das Janelas Verdes 1249-017, Lisbon, Portugal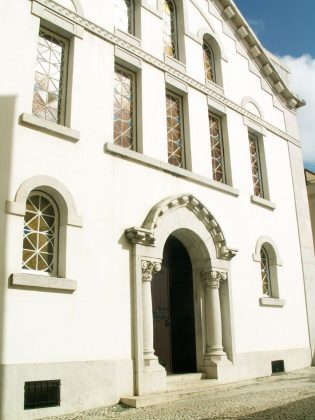 The  Shaare Tikvah Synagogue, designed by the architect Ventura Terra, was built in 1904. Its discreet facade opens onto a courtyard. The interior, built on the traditional plan of Ashkenazic synagogues, is decorated in the neo-oriental style. There is also a small oratory frequented by Jews of Ashkenazic origin on Rua Elias Garcia.
In the  National Museum of Art (Museu Nacional d'Arte Antigua), note the figure carrying a book in Hebrew in the retable attributed to Nuno Gonçalves. This offers an image of a Portuguese Jew in the 1460s.
Rua de la Judaria is the only remaining trace of the old Jewish quarter in the medieval Alfama district. It runs alongside the Visigoth city walls.