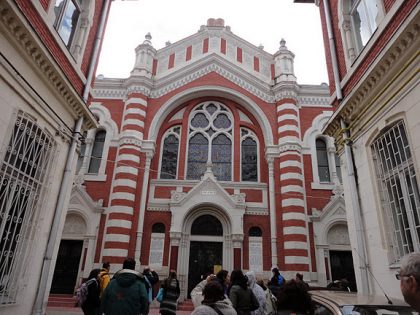 At the foot of huge Postavarul Mountain and the Poiana Brasov ski station, Brasoc unquestionably remains Transylvania's most fascinating city, with its citadel, ramparts, and medieval center, the latter today closed to cars.
The late-nineteenth-century synagogue here was sacked during the Second World War by pro-Nazis locals. It was rebuilt in 1944 but seriously damaged again in a 1977 earthquake. It was then restored once more, and now serves as a center for what remains of Jewish life in this city. A kosher restaurant, retirement home, mikvah, and community housing are all located nearby. Several hundred Jews, the majority of whom belong to the Reform tradition, still live in Brasov.
Remember that in times past. Orthodox Jews practiced agriculture in the remote region of Maramures, following the example of their Romanian and Hungarian neighbors. They have all but disappeared. Memory of them is gradually fading, along with that of their protectors and friends, the late Hapsburgs.